dkNET 3.0 Release Announcement
We are pleased to announce the release of dkNET 3.0. As you can see, dkNET has undergone a significant upgrade to make it easier to use and to add important new features to support your research.
Try it today and let us know what you think about our new site. For our current users, the previous site (Legacy dkNET site) will still be available for a limited time. If you have any questions, please do not hesitate to contact us via help desk or email to info@dknet.org.
What's New?
We have been listening carefully to our users and community. With dkNET 3.0, we are launching new services and tools, including Resource Reports, Authentication Reports and FAIR Data support, the Hypothesis Center, and a redesigned Discovery Portal (Figure 1). For those of you already familiar with dkNET, we've created a quick comparison.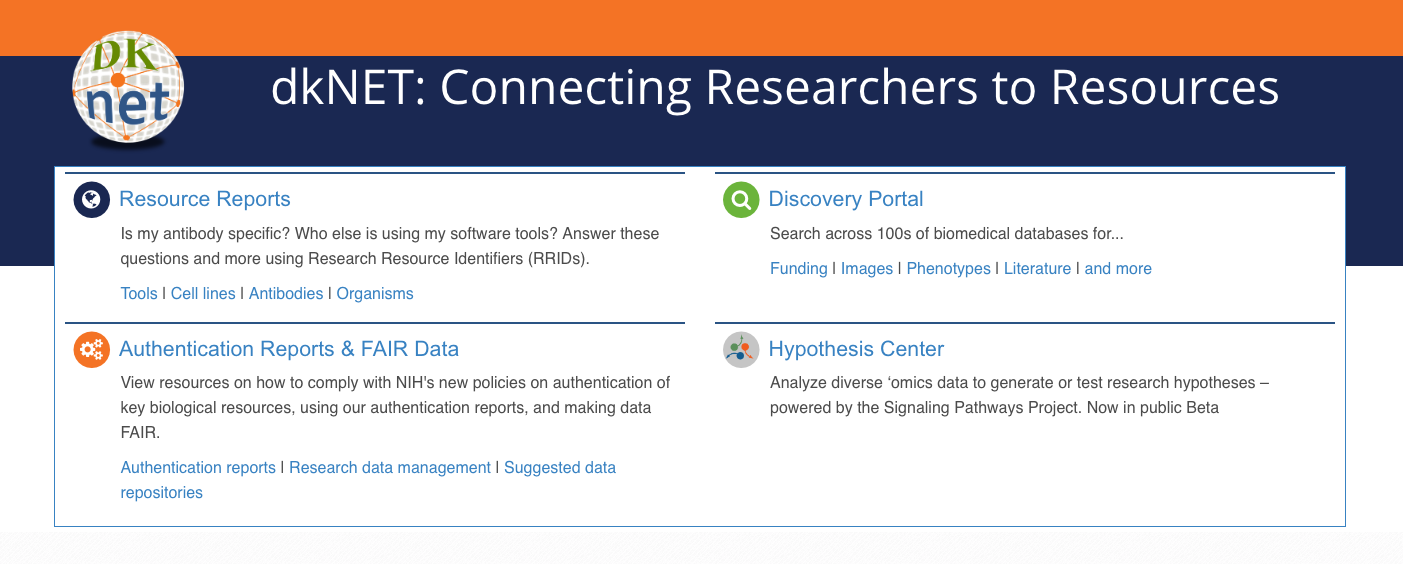 Figure 1. New dkNET 3.0 homepage and services and tools provided.
Resource Reports - Powered by Resource Network

NEW
Our Resource Network is a tool that provides important information about the resources (e.g., antibodies, tools) you use in your laboratory. It's the only integrated data set and analytics platform combining Research Resource Identifiers (RRIDs), text mining and data aggregation to provide important information on resource use and performance. Users can identify key resources while also tracking resource use and performance. The network offers a detailed overview of each resource along with citation metrics from the biomedical literature and even information about what resources have been used together. You'll gain insights about who is using particular resources and how the community views those resources. Future updates will include reviews and rankings to help you select the most appropriate resources for your research.
How dkNET can help you?
Find whether the resources are reliable before you perform your experiments, such as is this cell line contaminated or misidentified? Who else used the resource?

Find Research Resource Identifiers (RRIDs), required by many publishers for proper citation of your resources

Register resources to obtain RRIDs if the resources do not exist in the system
Search for RRIDs

Check out an example with ImmunoBase (RRID:SCR_014642)

Check out an example with beta-Actin (8H10D10) Mouse mAb antibody (RRID:AB_2242334)

Authentication Reports and FAIR Data

NEW
Today's biomedical researchers face the challenge of complying with new NIH mandates for rigor and reproducibility, and managing and sharing research data. These latter requirements are part of a larger movement to ensure that data is FAIR – findable, accessible, interoperable and reusable. dkNET is expanding its support for reproducibility with new tools and services. Our goal is to empower NIDDK-supported researchers to authenticate resources and share data in compliance with FAIR principles. One new tool makes it easy to generate a resource authentication report when submitting a proposal or publication. We also have compiled a listing of data repositories where you can publish your data. In an upcoming release, we'll be providing guidance and resources for generating data management plans and understanding what FAIR means to you.
How dkNET can help you?
Hypothesis Center - featuring the Signaling Pathways Project

NEW
In the era of FAIR data management, it's crucial to provide tools for compliance. But it's equally important to make the case for how FAIR data benefits researchers and elevates their work. We're partnering with the Signaling Pathways Project to create a powerful new meta-analysis platform for FAIR 'omics data. It will allow users to model signaling events in metabolic organs and intersections between cellular signaling pathways and metabolic disease. In the future, we'll be working with additional bioinformatics platforms to provide access to these powerful platforms through dkNET:
Use the Hypothesis Center to:
Model signaling events in metabolic organs using FAIR 'omics data and generate hypothesis

Find genes with important roles in regulation of receptors, enzymes, organs and tissues and define novel signaling pathways (see examples)
We have redesigned the dkNET Discovery Portal to incorporate user feedback to create a more intuitive search interface. We unified the search across community resources of special relevance to NIDDK researchers with our "More resources" search which provided access to additional biomedical databases and the biomedical literature (Figure 2). Instead of 3 separate search tabs, users issue one search and then use appropriate filters to select the relevant databases.
Find resources and data relevant to your work.

Find literature of your interest and associated tools or resources used in the literature.

Connect you to the broader biomedical community.
For returning users, if you want to search resources through *dkNET community resources, go to Discovery Portal and turn on COMMUNITY FILTER. If you want to search Literature, click Literature at dkNET homepage under Discovery Portal section.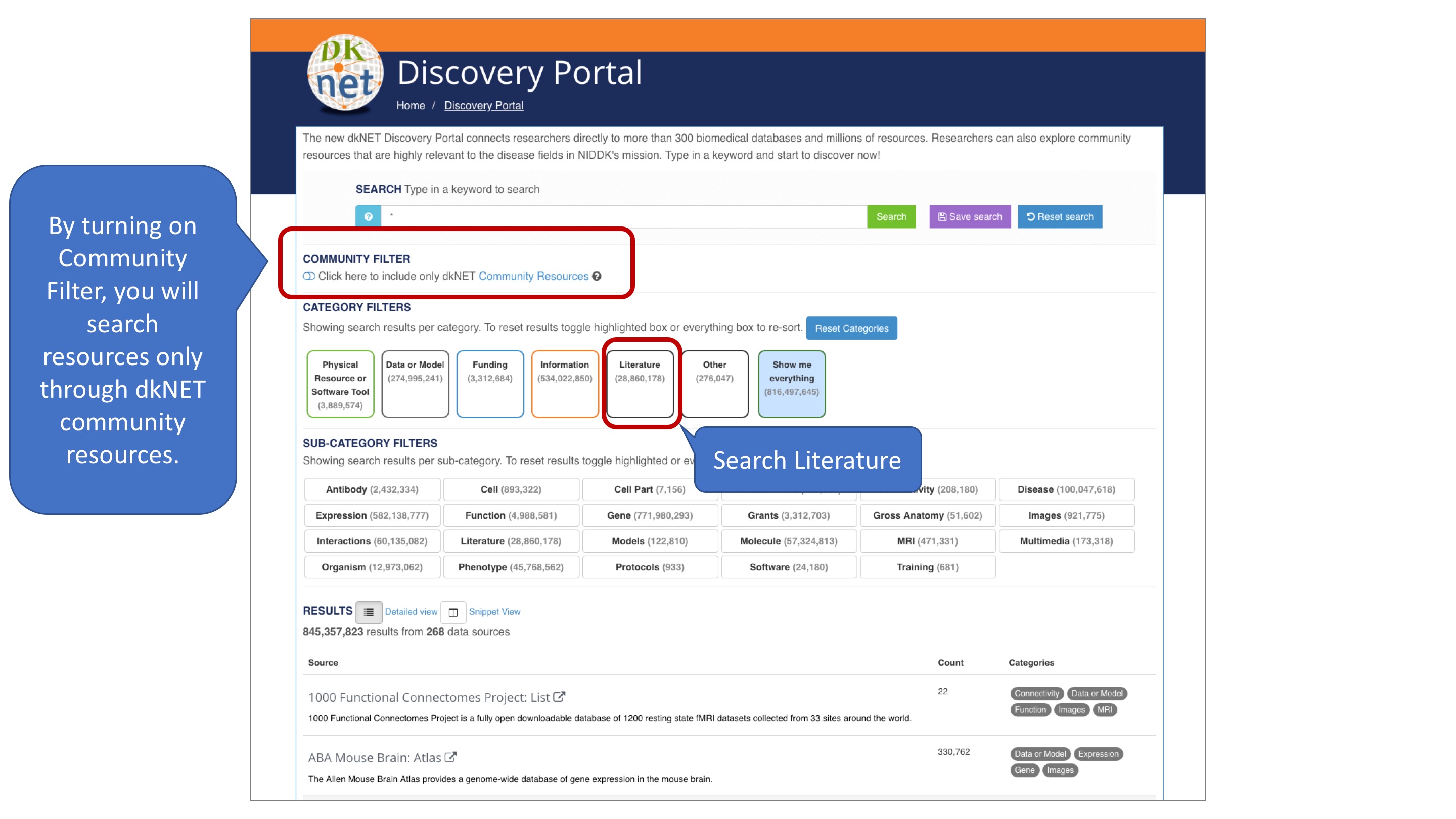 Figure 2. The re-designed Discovery Portal consolidates dkNET Community Resources, additional biomedical databases and the biomedical literature into one search interface.
For more information please sign up for our newsletter and join our dkNET webinar series!. Whether you are a returning user, a new user, a research scientist or a bioinformaticians, or anyone interested in learning how dkNET's new features can help with their research - everyone is welcome to attend. If you missed the webinar, don't worry. All the webinars are recorded and are shared on our YouTube channel, i.e., dkNET 3.0 Introductory Webinar, RRIDs and Naughty Cell Lines, The Signaling Pathways Project - Putting The R in FAIR Data). You can learn anytime, anywhere!
Best,
dkNET team
--------------------------------------------------------------------------------------------------------------------------
*What's dkNET community resources? dkNET has selected a subset of these resource providers as "Community Resources", that is, resources that were specifically created for the dkNET community, e.g. GUDMAP, or contain information of particular importance to NIDDK Researchers, e.g. the Antibody Registry. "Community Resources" were currently pre-selected for inclusion by the NIDDK Information Network Steering Committee.