RRIDs are associated with a lower reported use of problematic cell lines in the biomedical literature
The impact of Research Resource Identifiers (RRIDs) is shown in a new study published in eLife by Babic and colleagues:
Incidences of problematic cell lines are lower in papers that use RRIDs to identify cell lines
. This study shows that the use of RRIDs in papers is associated with decreased use of misidentified or contaminated cell lines.
What are RRIDs?
dkNET (NIDDK Information Network, https://dknet.org) has been one of the drivers behind the Resource Identification Initiative(1), an effort to improve the way we identify and track the use of research resources in the published literature. dkNET has developed several services and tools based on RRIDs (https://dknet.org/about/rrid), unique identifiers inserted into the materials and methods sections of journal articles by authors to identify key resources such as cell lines, antibodies, digital resources, organisms and biosamples. Since the launch of the RRID project, RRIDs have appeared in over 653 journals and 10,896 articles.
RRIDs make it easy to identify and track research resources and to make information on these resources widely available to the research community(2).
How do RRIDs help biomedical science?
The use of misidentified and contaminated cell lines is a known a problem in biomedical research. Horbach et al. found that more than 32,000 articles were published using misidentified cells and these articles were cited by an estimated half a million papers. Despite the availability of a database of problematic cell lines, developed and maintained by the International Cell Line Authentication Committee (ICLAC) since 2014, the reported use of these cell lines is not decreasing over time(3). If an author is unaware that the cell line is either misidentified or contaminated, the conclusions of the study might be invalid. Such practices contribute to the the 28 billion dollar economic impact of irreproducible preclinical research in the United States (4).
Because authors are asked to include RRIDs for key resources in the methods sections of their manuscripts, authors are required to look up RRIDs using a service like the Resource Identification Portal (https://rrid.site) or dkNET. These services provide a central location for the dissemination of information provided by ICLAC on problematic cell lines. When authors look up the RRID for one of these cell lines, they see an alert symbol and any problems highlighted bold red letters (Figure 1). Thus, the author of the paper will be made aware that a cell line in their manuscript may have issues.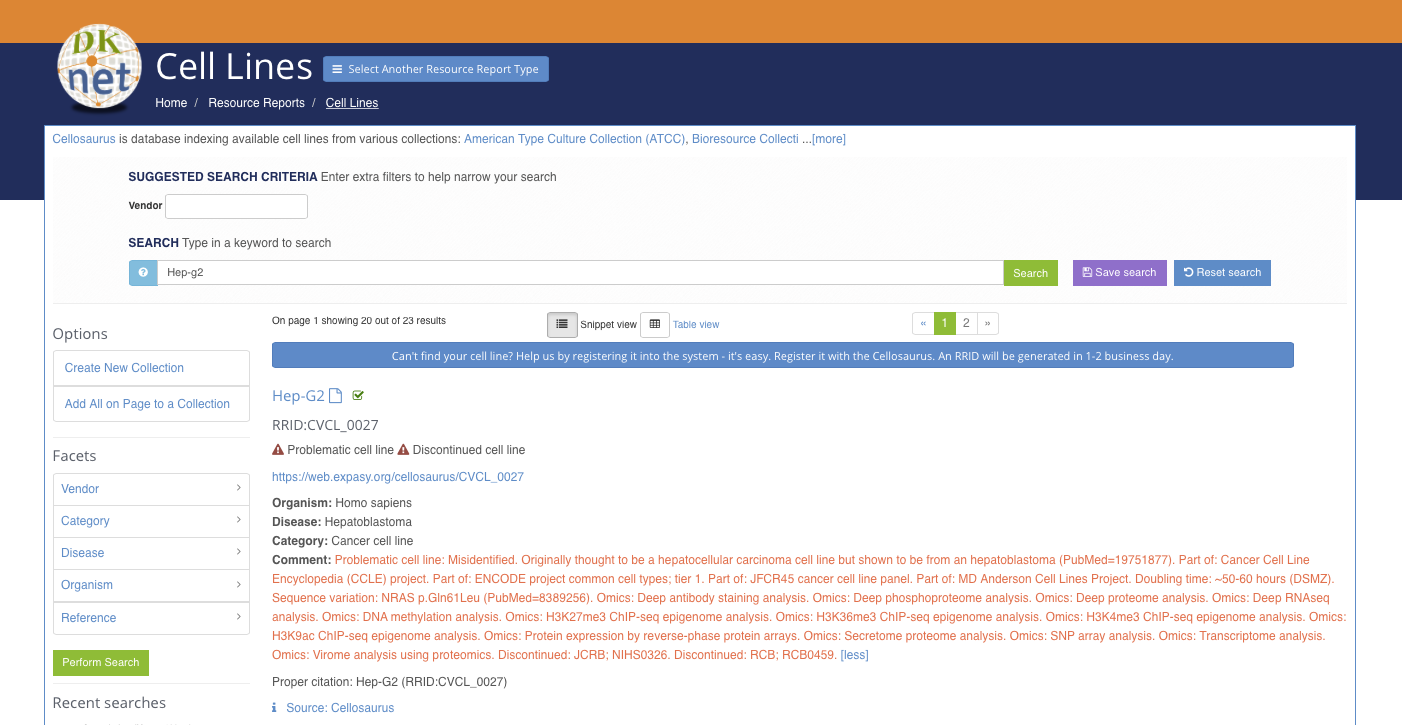 Figure 1. When a cell line has problem, researchers can see an alert symbol and problems highlighted in bold red letters at dkNET.
Babic and colleagues asked whether the availability and prominence of this information, provided to authors before their studies are published, has an impact on the reported use of these cell lines in published papers. They text-mined the methods section of ~2 million papers in the open access subset of PubMed Central to identify all papers that listed cell lines and papers that use RRIDs, and then compared the prevalence of misidentified cell lines in these two groups. The results shows the rate of reported use of problematic cell lines was over 2X greater in all papers using cell lines compared to those that supplied RRIDs (8.6% vs 3.3%). The study suggests that being required to include an RRID is associated with a lower reported use of problematic cell lines (5).
We know that correlation does not imply causality, but knowledge is power. The biomedical enterprise is so vast that information dissemination is a significant problem. RRIDs insert themselves into the publication process to ensure that authors have a reasonable chance of confronting information on problematic cell lines. The same service can be extended to other types of resources as well.
Of course, it would be better if information on key scientific resources is known before the experiments are done. dkNET is now making it even easier to explore information on individual research resources with the launch of our new Resource Reports in the upcoming dkNET 3.0 release (currently in beta version). Resource Reports use RRIDs, text mining and data aggregation to create a concise report providing a detailed overview of individual research resources along with citation metrics from the biomedical literature, community feedback and alerts, and researchers that may have experience with these resources. To receive updated information about our new release, please check out our website, sign up newsletter, or follow us at Twitter @dknet_info.
References