Love data, big and small? We do, too.
Join the dkNET-NURSA challenge to help scientific community, and WIN BIG PRIZES while using small data to create BIG DATA!
---
Webinar Announcement:
Want to learn how to use dkNET and also win big prizes?

Join our dkNET-NURSA Challenge kick-off webinar!

Date: 12:00 p.m. PT, April 27, 2017

Registration link: https://goo.gl/rkOZDw !
Download Flyer Here to share dkNET-NURSA Challenge information with your students, post-docs and colleagues!
Background
The Nuclear Receptor Signaling Atlas (NURSA) is partnering with the NIDDK Information Network (dkNET.org) to create big data from small data. Everyone is talking about Big Data. How can we ensure that the impact of individual scientists working on a myriad of small and focused studies that discover and probe new phenomena - is not lost in the Big Data world. In fact, there is more than one way to generate big data and we would like your help in creating and expanding "big data" for NIDDK! NURSA is curating a growing database, Transcriptomine, for global-scale expression profiling (transcriptomic) datasets relevant to nuclear receptor (NR) signaling pathways. In order to build a comprehensive "big" data set, we want to complement this transcriptomic resource with other omics datasets relevant to nuclear receptor and coregulatory pathways, and we need your help to assist the community to identify such datasets. The NIDDK Information Network (dkNET, http://dknet.org) is an open community portal that functions as a search engine for data, information, and resources that provides seamless access to large pools of data and research resources in the fields of diabetes, digestive, endocrine, metabolic, kidney, and urologic diseases. In this challenge, we encourage researchers to learn how to use dkNET to identify datasets and relevant information more efficiently and to help us make dkNET better by providing feedback.
Join Now - It's Easy!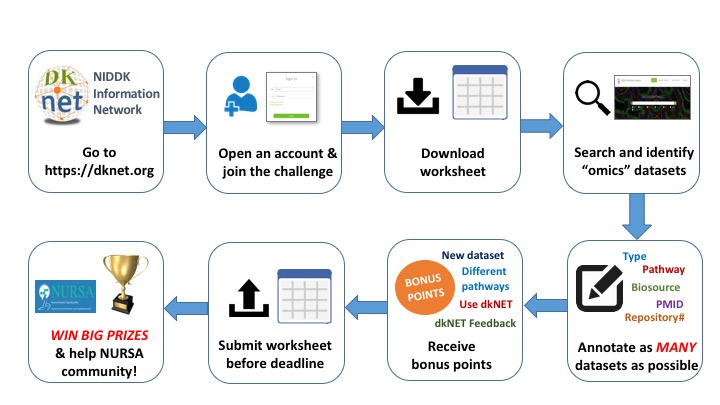 STEPS
1. Go to
dknet.org
2.
Open an account
, login, and
join the challenge
3. Download worksheet (located on the right side of the challenge page: DOWNLOAD WORKSHEET)
4. Search and identify "omics" datasets
5.
Annotate many datasets
6. Receive
bonus points
7. Upload worksheet (click submission under YOUR RESULTS, located on the right side of the challenge page)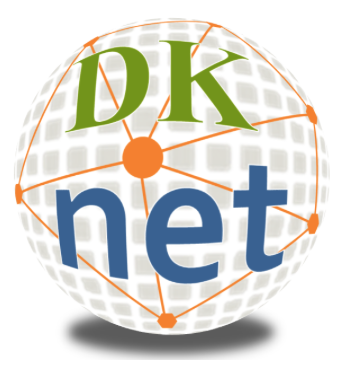 Identify and annotate as many discovery-scale (omics) datasets as possible involving perturbations of nuclear receptor or coregulator signaling pathways. Required categories are cistromic (ChIP-Seq), proteomic (mass-spec-based protein-protein interaction or whole-proteome profiling), post-translatomic (phosphorylation, acetylation or other modification) or metabolomic. Here are some examples:
Cistromic/ChIP-Seq

Example: MCF-7 cells are treated with 17

-

beta

-

estradiol followed by chromatin immunoprecipitation with an ER

-

alpha

-specific antibody.
Protein-protein interactomics

Example: MCF-7 cells are treated with 17-beta-estradiol, then IPd with an ER-alpha-specific antibody & subjected to mass spec analysis
Post-translatomics

Example: HEK293 cells stably expressing FLAG-GR-alpha were treated for 1 h with or without 10 nM dexamethasone prior to lysis and incubation with anti-FLAG antibody followed by extraction with anti-pTyr antibody & mass spec analysis.
Metabolomics

Example: MCF-7 cells are treated with 17-beta-estradiol, then subjected to metabolomic mass spec analysis.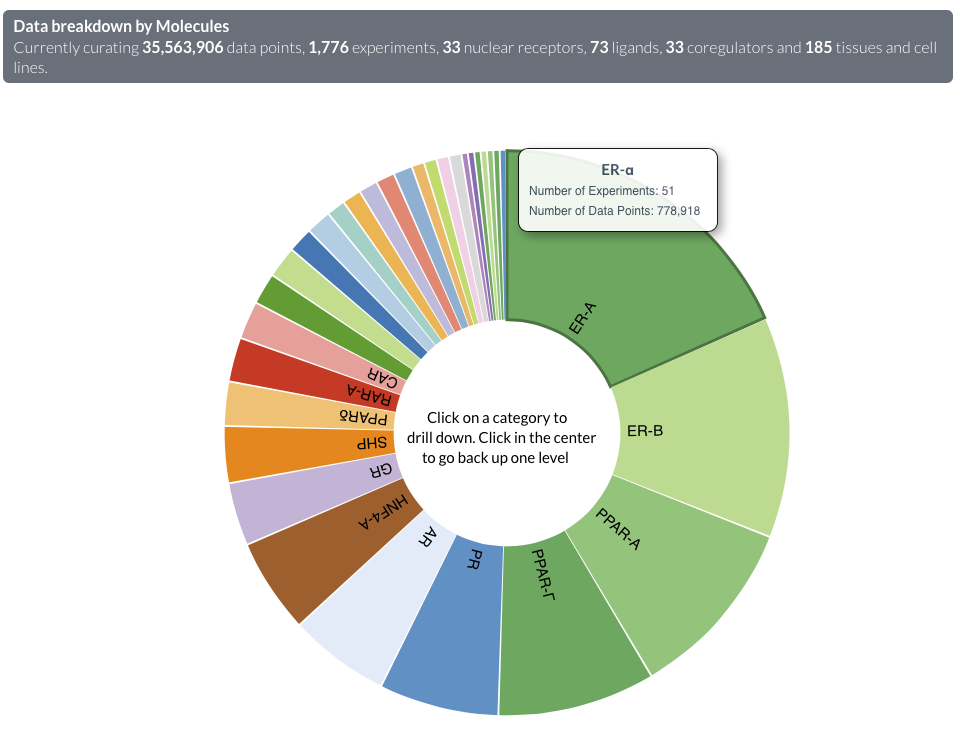 Screenshots from https://nursa.org
Award
$50 gift card will be awarded to the first 20 teams (individuals or groups) who complete annotating five new datasets.

Annotate as many datasets as you can to receive the opportunity to win a bigger cash prize! A $500 cash prize, generously sponsored by SciCrunch Inc., will be awarded to the team who accumulates the highest number of points before the deadline.


Treatment with a small molecule perturbant (physiological ligand, drug, synthetic organic compound, etc) of a nuclear receptor or coregulator; OR


Genetic pertubation (knockout, knock-in, knockdown, overexpression) of a nuclear receptor or coregulator.

See the NURSA website for a list of NR signaling pathways and their corresponding small molecule & genetic perturbants in the current version of Transcriptomine.
After opening a dkNET account, you will be able to download an EXCEL file containing the dataset worksheet
For this challenge, you only need to fill in the information regarding each dataset in the worksheet. You don't need to upload the real dataset to the dkNET platform.
An example of the information to be filled in for each dataset is listed here:

One point for each correct field in the attached Excel file, except Repository Accession Number, which is worth two points
If you search for a repository accession number or some other identifier but do not find it, enter Not deposited in the
Repository Accession Number
For papers with multiple different omics datasets, enter these as separate datasets - these will be scored as individual datasets
Ten bonus points will be awarded for every multiple of ten reached in each separate category
Five bonus points will be awarded for every different
NR signaling pathway
represented in the final list of datasets.
Points will be awarded only for datasets not currently in NURSA (see

NURSA dataset directory)
Four bonus points will be awarded for utilization of dkNET during this challenge. This includes finding datasets, repositories, funded awards, or articles to identify datasets using dkNET.org

(dkNET may be the starting point, but that other tools may be used for the challenge). Provide dkNET URLs and record if you have found useful information to receive 2 bonus points! Write down your feedback from your experience using dkNET to find the datasets to receive 2 bonus points.
A good place to start is
dkNET:
(1) When using dkNET to find data, search under More Resources (

https://dknet.org/data/search) instead of Community Resource to expand your search.

(2) Use quotes around phrases you want to match exactly, such as androgen receptor. Avoid of, in.

(3) For multiple search terms, use operators such as AND, OR.

(4) Use facet on the left side to refine your results.

(5) Save your search to receive updates.

(6) Check out the Challenge Help page, dkNET Help page, workshop slides, tutorials, or attend upcoming dkNET webinar to learn more.
More good places to start are literature reviews or repositories

Form a team for more efficient searching

Sign up for journal tables of content to identify relevant newly published studies

Even if a dataset is deposited, the repository accession number is not always included in the associated article.

Article information is not always included in repositories (esp. GEO)



Go to Challenge FAQ Page


Challenge Deadline and Contact Information
The deadline for the dkNET-NURSA Challenge is at 23:59:59 PDT June 16, 2016. If you have any questions regarding the challenge, feel free to contact us at info@dknet.org
The dkNET-NURSA challenge is a joint effort between the NIDDK Information Network (dkNET) hosted at University of California San Diego and Nuclear Receptor Signaling Atlas (NURSA) hosted at Baylor College of Medicine. dkNET is funded by the National Institute of Diabetes, Digestive and Kidney Diseases (NIDDK) DK097771. NURSA is funded by NIDDK DK097748 with supplemental funding from the National Institute of Child Health and Development (NICHD). Submissions will be reviewed for accuracy by the NURSA biocuration team.